Welcome to Ewald Industrial Tire & Wheel!
Here at Ewald we pride ourselves in being a small locally owned company still going strong!
We are proudly celebrating 35 years of serving the Tri-state area.
Established in 1981 we provide nothing but THE best in a prompt friendly manner. We specialize in industrial tires and wheels, Press-ons, Pneumatics, Solid Pneumatics, and Polyurethanes. We also provide Foam Filling to prevent flats that can cause costly down time.

Our goal is to provide you with the best quality at competitive prices!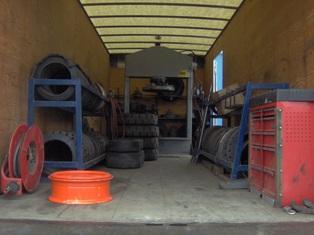 Got A Flat? Need Help Fast?
We offer on site tire pressing and will send experienced tire pros to your door!
Call the office and one of our knowledgeable Customer Service Specialists will gladly help you determine exactly what you need to get your machine back in business again.
*Local call: 260-436-8337 Toll Free call: 1-800-28EWALD (39253)
Our Promise To You..
We stand behind all of our products 100%. We promise to provide a wide variety of products that are cost effective and fit your particular needs. Our goal is to help you achieve maximum tire life.

Ewald Industrial tire will warranty all of our products for 30 days with free replacement tires and labor at no additional charge.
Want Fast Friendly Service? Call Ewald Today!
Ewald Industrial Tire & Wheel
Toll Free: 1-800-28EWALD (39253)
Customer satisfaction is what keeps us in business, please tell us how your experience with Ewald has been. If we can be of any service, or if you have any questions please feel free to contact us here, or call the office. Thank you!